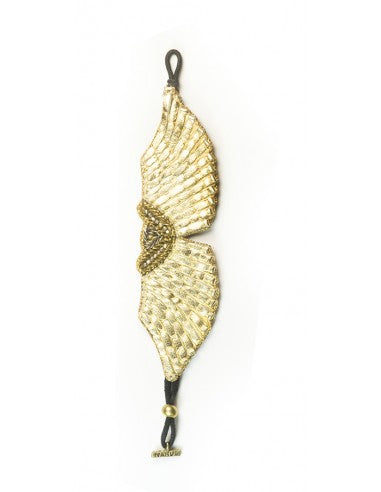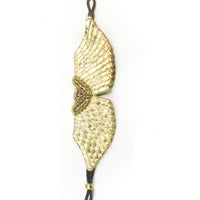 Soft leather handmade bracelet in the shape of angel wings.  Adorned with sequins and brass beads, with leather lining and anti-allergenic closing. 
One Size (with two closing options - pull the bar through the loop, or both the bar and the ball if you have a smaller wrist). 

Caring for your Nahua Jewellery - It is necessary to avoid any contact with water (salted or chlorinated), detergents, as well as oils and cosmetic products, alcohol, chemicals and acid products.

Nahua jewellery is the result of a close collaboration between founder Isabelle Moya and an Indian familial embroidery atelier, which was about to disappear. With the common goal of preserving, supporting and sharing a unique artistry, Nahua was created. Using a rare vertical embroidery technique, each of their accessories carries the history of a noble craftsmanship as old as the first Maharajas. It is a technique normally applied to the making of Indian ceremonial clothing and army uniforms which Nahua has transferred to  the world of accessories.
Each accessory is embroidered completely by hand by craftsman who have been taught by their relatives. It is a lovely story and one that allows numerous Indian families to keep making a living from their specific art. We are proud to be a UK stockist of this unique, eclectic and truly stunning jewelery.
• Hand embroidered
• Silk thread and leather
• Closing with double sizing (small wrists)
• Brass beads and sequins
• leather lining 
• Stainless steel and anti allergenic closing
Each accessory is handcrafted using a skillful blend of two ancestral, high-end Indian embroidery techniques: AARI and ZARDOZI embroidery. All materials are carefully chosen to offer a quality product, for a visual and sensory experience.
Nahua is the result of a meeting between designer Isabelle and an Indian family embroidery workshop with an exceptional know-how that was about to disappear. The idea of combining their unique embroidery technique, traditionally used for clothing, with the creation of jewellery and accessories was born with the aim of saving this workshop from bankruptcy, to preserve and perpetuate its art. Nahua offers a wide range of jewellery with the cuffs and bangles that have made the brand famous, colourful earrings that are ultra light to wear, unique chockers, accessories such as brooches, but also embroidered clutches like jewellery, all in very limited stock to avoid overproduction. It is a choice since the beginning of the adventure, only what will be ordered by the retailers will be produced and few quantities are proposed on the e-shop.

You're ALWAYS a Local
Follow us on instagram to live the local lifestyle everyday! Pick up orders and shop with us in person at any of our three locations in SRQ!
Follow Us!