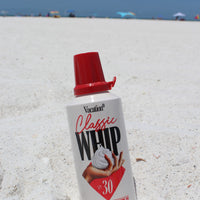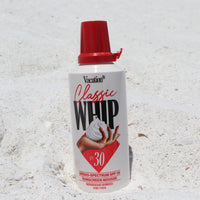 Vacation Classic Whip SPF 30 Sunscreen Mousse is a "lighter-than-air" sunscreen made with eco-friendly propellants and an authentic "tilt valve" actuator that produces perfect, star-shaped mountains of foam inspired by everyone's favorite after dinner indulgence.
Key Benefits
Broad spectrum SPF 30 protection against the sun's harmful UVA and UVB rays 
Water-resistant (80 minutes) 
Reef-friendly formula 
Nostalgic "tilt valve" actuator 
 Eco-smart propellant 
Hydrating, "lighter-than-air" feel 
"CleanClassic" formulation process to update everything that you love about sunscreens of the past with the best of modern skincare science 
Rubs in smooth and clear on all skin tones 
Award-winning scent developed with Carlos Huber and Rodrigo Flores-Roux, the perfumers behind ARQUISTE Parfumeur and the St. Regis Hotel Scent combines notes of coconut, banana, pool water, pool toy and swimsuit lycra: all of your best sunscreen summer memories 
Cruelty-free, vegan, dermatologist tested 
Manufactured in the USA 
You're ALWAYS a Local
Follow us on instagram to live the local lifestyle everyday! Pick up orders and shop with us in person at any of our three locations in SRQ!
Follow Us!